Student Mixer - Financial Services 101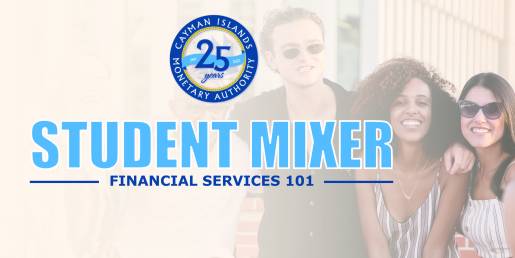 The Cayman Islands Monetary Authority ("CIMA") is committed to promoting the jurisdiction as a leading international financial services centre. As such, all college bound students are invited to join us for a casual afternoon at the Grand Cayman Marriott Beach Resort ballroom. Attendees will learn first-hand knowledge about the financial services industry, its importance to the local economy and how it contributes to the standard of living in the Cayman Islands, and the role of CIMA as chief regulator of the financial services industry.
This interactive platform will also serve as an opportunity for students to meet key players within the industry, including representatives from CIMA, the Cayman Islands Government and the private sector. Additionally, the event will provide students with an excellent opportunity to interact with peers as well as discuss various job opportunities within the financial services industry. Persons do not need to have an interest in the financial services industry to attend the event.
Upon entry, student participants will be automatically entered into a raffle for a chance to win popular prizes. There will also be giveaways, complimentary refreshments and informational booths on display.
To register, click here.