World Investor Week (WIW) is a global campaign promoted by the International Organization of Securities Commissions (IOSCO) to raise awareness about the importance of investor education and protection and highlight the various initiatives of securities regulators in these two areas.
This year's campaign takes place from 1 through 7 October 2018. Each day a new tip will be posted below encouraging investors and consumers to make "smart" choices.
---
SMART INVESTOR TIPS
TIP #1 - A SMART INVESTOR CONDUCTS RESEARCH ON A PRODUCT BEFORE INVESTING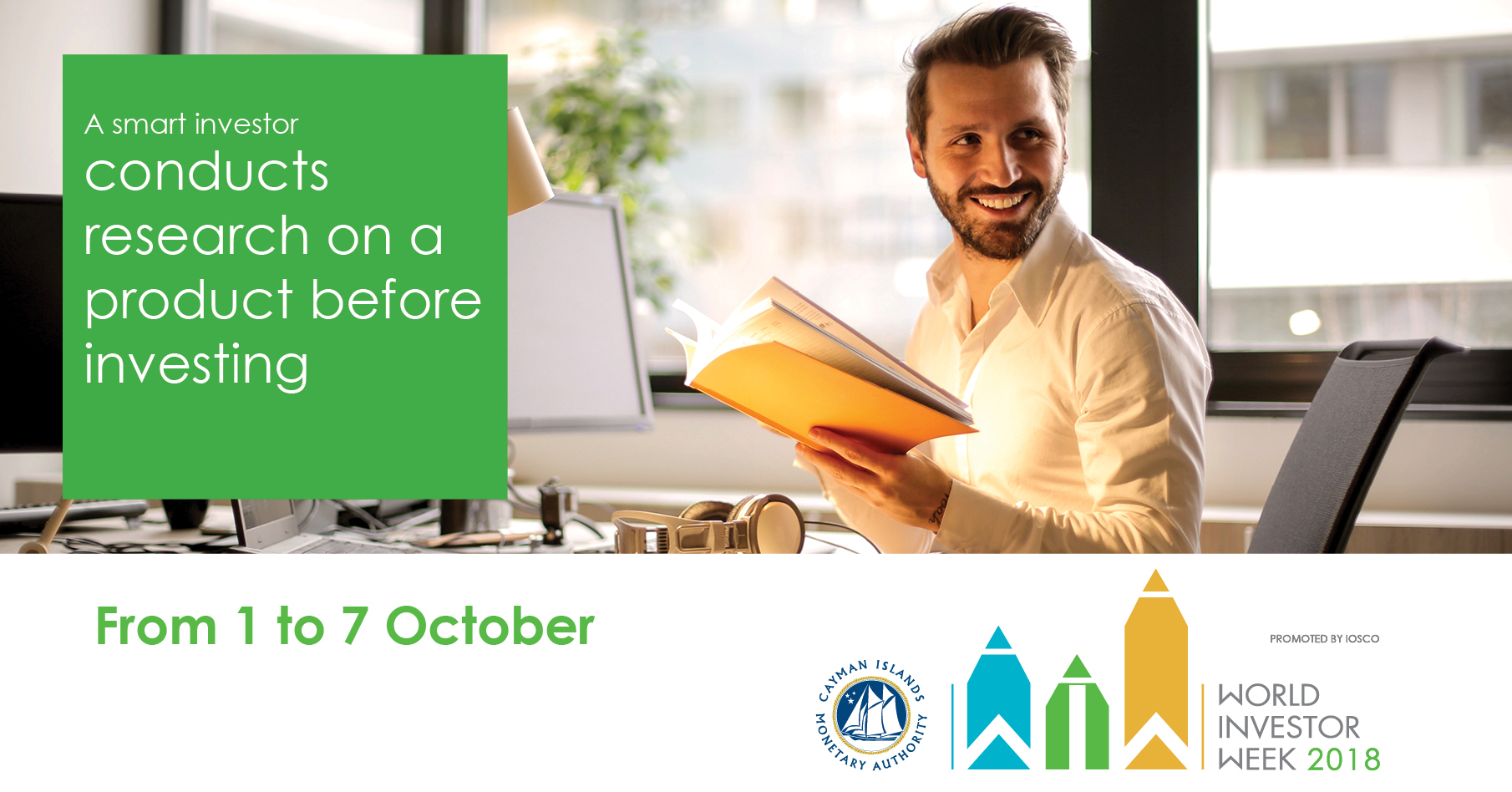 One of the first steps an investor should take is to check if an entity is registered or licensed by the Cayman Islands Monetary Authority.
Visit Investment Funds statistics to verify if a mutual fund is registered or licensed by the Cayman Islands Monetary Authority. Persons can also refer to Securities statistics to view the list of securities investment business licensees. These lists are updated quarterly and include the name of the entity, licence number, and the date of when the entity was first registered or licensed. If an entity is registered or licensed, that means that the entity has met its obligations to certain basic requirements of the Cayman Islands Monetary Authority. Please note that an entity being registered or licensed should not be taken as an endorsement by the Cayman Islands Monetary Authority that you will not lose your investment.
The Cayman Islands Monetary Authority also maintains a list of mutual funds that have been removed from the register. The list of these terminated entities is only up until the date shown and can be viewed here.
Investors should also confirm an entity's address and website. Websites can sometimes be fraudulent and contain addresses intentionally similar to entities registered or licensed by the Cayman Islands Monetary Authority. A list of such websites can be viewed here.
Remember -
Before investing, do your research on the investment professional and the investment product;
Do not invest solely based on an endorsement by a celebrity, a family member, a friend, or any other person;
Read all documents on the product thoroughly and ask a lot of questions.
TIP #2 - A SMART INVESTOR ASSESSES THE IMPACT OF FEES WHEN CHOOSING AN INVESTMENT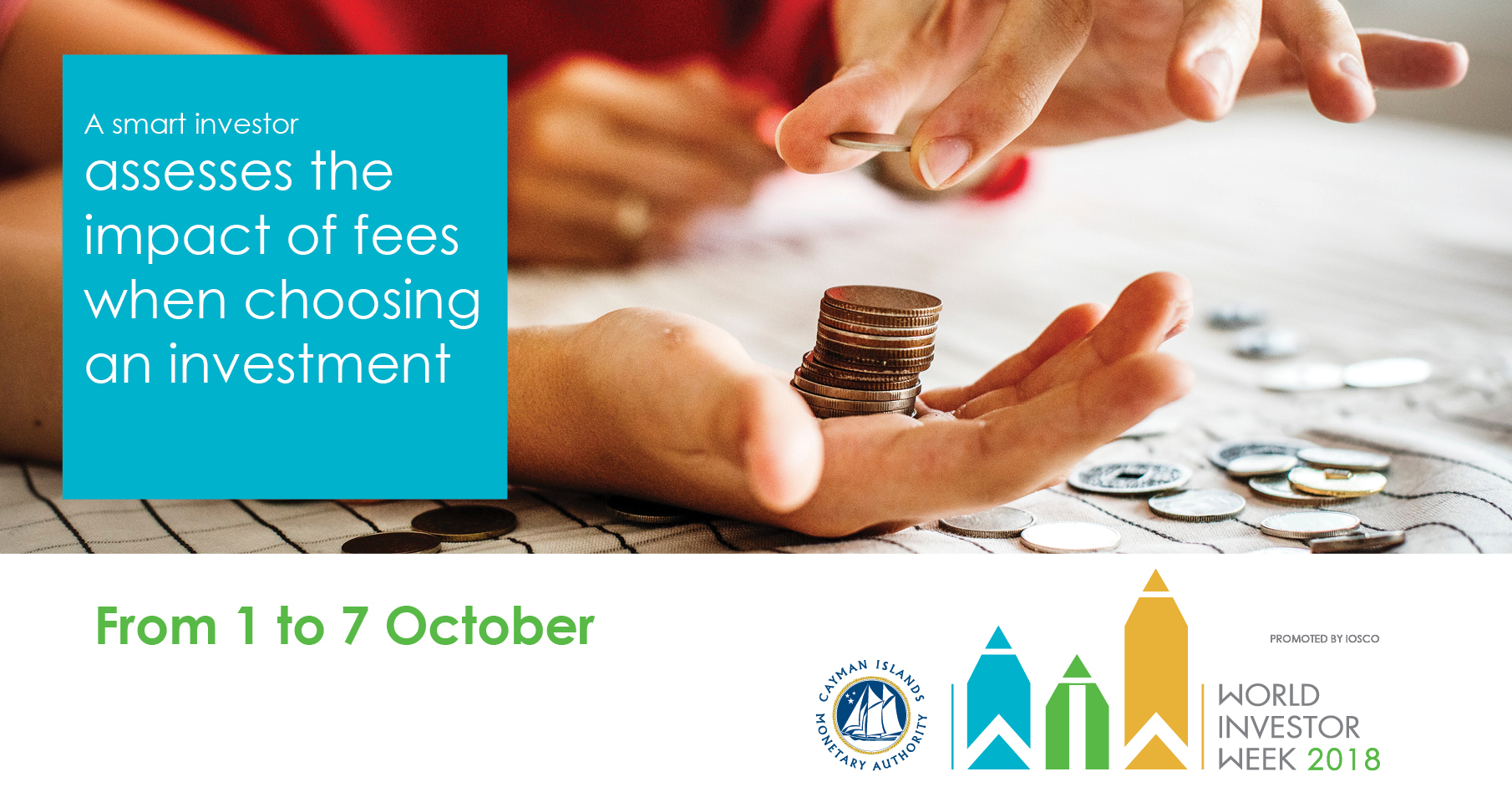 Investments come with costs such as fees, penalties, and commissions. These charges should be taken into consideration before you decide if an investment is right for you. Excessive costs can affect investment returns, therefore you should know costs upfront in order to set expectations as even a small difference in charges can have a significant impact on the returns on your money over the life of the investment. Different entities will charge different fees for the same investment product so shopping around and asking questions are critical before making a final decision on which investment to choose.
Common types of fees include:
receiving investment advice;
buying and selling an investment;
making changes to an investment; and
managing the investment.
Another important consideration is knowing the investment professional's incentive. Does the professional collect a salary, are they paid on commission, or do they receive a combination of the two? Knowing this gives you an idea of possible motivations of the investment professional with the products they recommend and any additional charges.
Remember -
All fees are to be taken into consideration so that you can make an informed decision on what to invest in and how much;
Keep track of the overall cost of your investments as this will impact the return on your money;
Never assume your account statement contain all the fees that are attached to the investment. Ask questions.
TIP #3 - A SMART INVESTOR UNDERSTANDS THAT RISK EXISTS IN ALL INVESTMENTS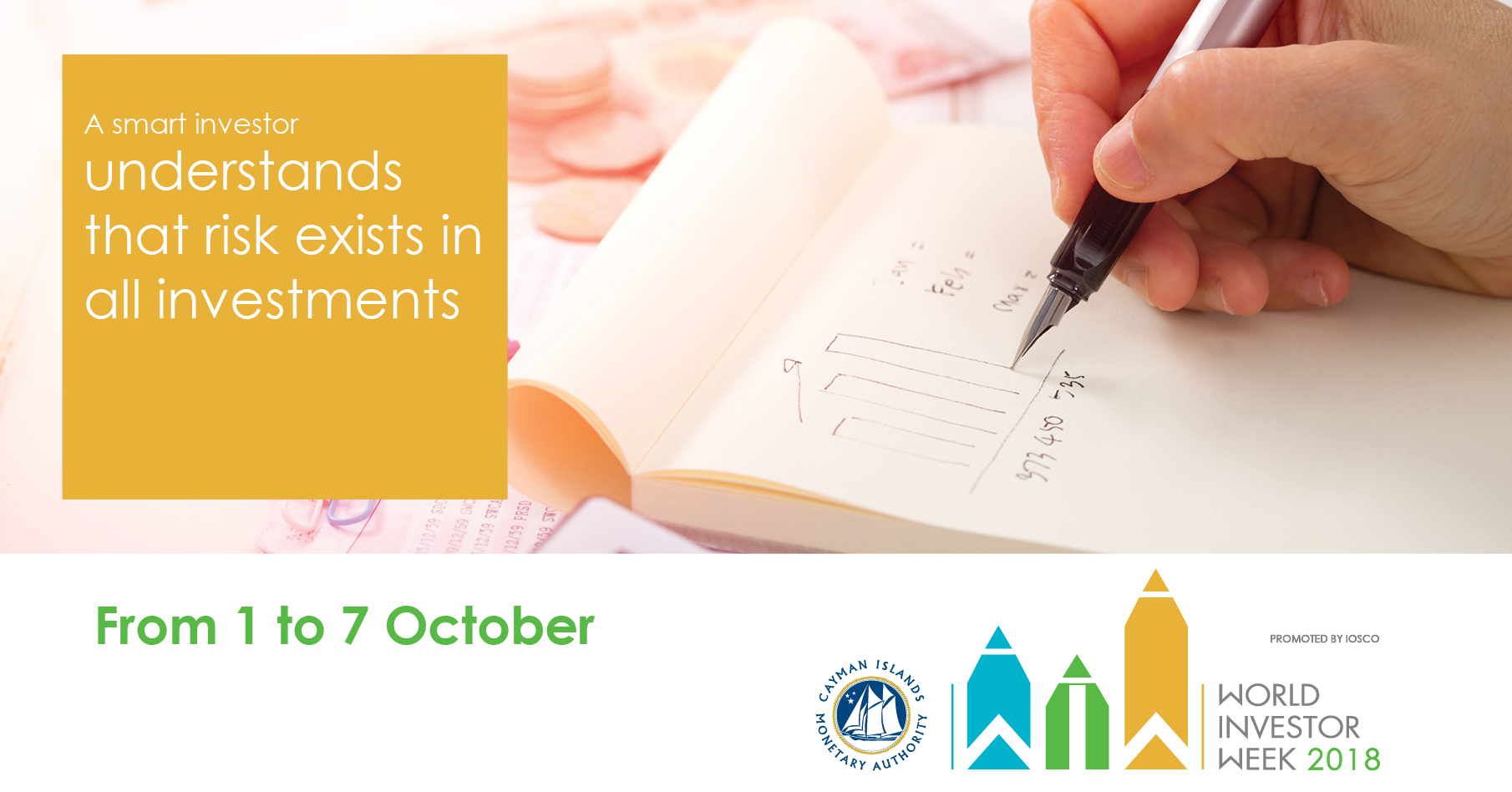 Investing requires balancing rewards and risk. Whether you are investing hundreds, thousands, or hundreds of thousands of dollars, a smart investor understands that to gain potential rewards to investing, he/she must be prepared for potential risks. You are responsible for deciding how much risk you want to take and therefore for mitigating against such investment risk.
You can manage investment risk by diversifying your investment portfolio. To diversify means to select a mix of investments to help offset the potential losses that can result from 'putting all of your eggs in one basket'. This means that instead of putting all your money in one type of investment, you should spread your money across different types of investments. Diversification is not a guarantee that you will not lose money on your investment but it does enable you to reduce your risk of losses while possibly increasing your return potential across a portfolio of investments.
Remember -
There is no such thing as a risk-free investment;
As a general rule, if you take limited risk, you will see limited returns, as there must be a balance between rewards and risk;
Having a diversified investment portfolio helps reduce the risk of losing all of your money;
Keep informed about your investments and ask questions.
TIP #4 - A SMART INVESTOR AVOIDS "GET RICH QUICK" AND "CAN'T LOSE" SCHEMES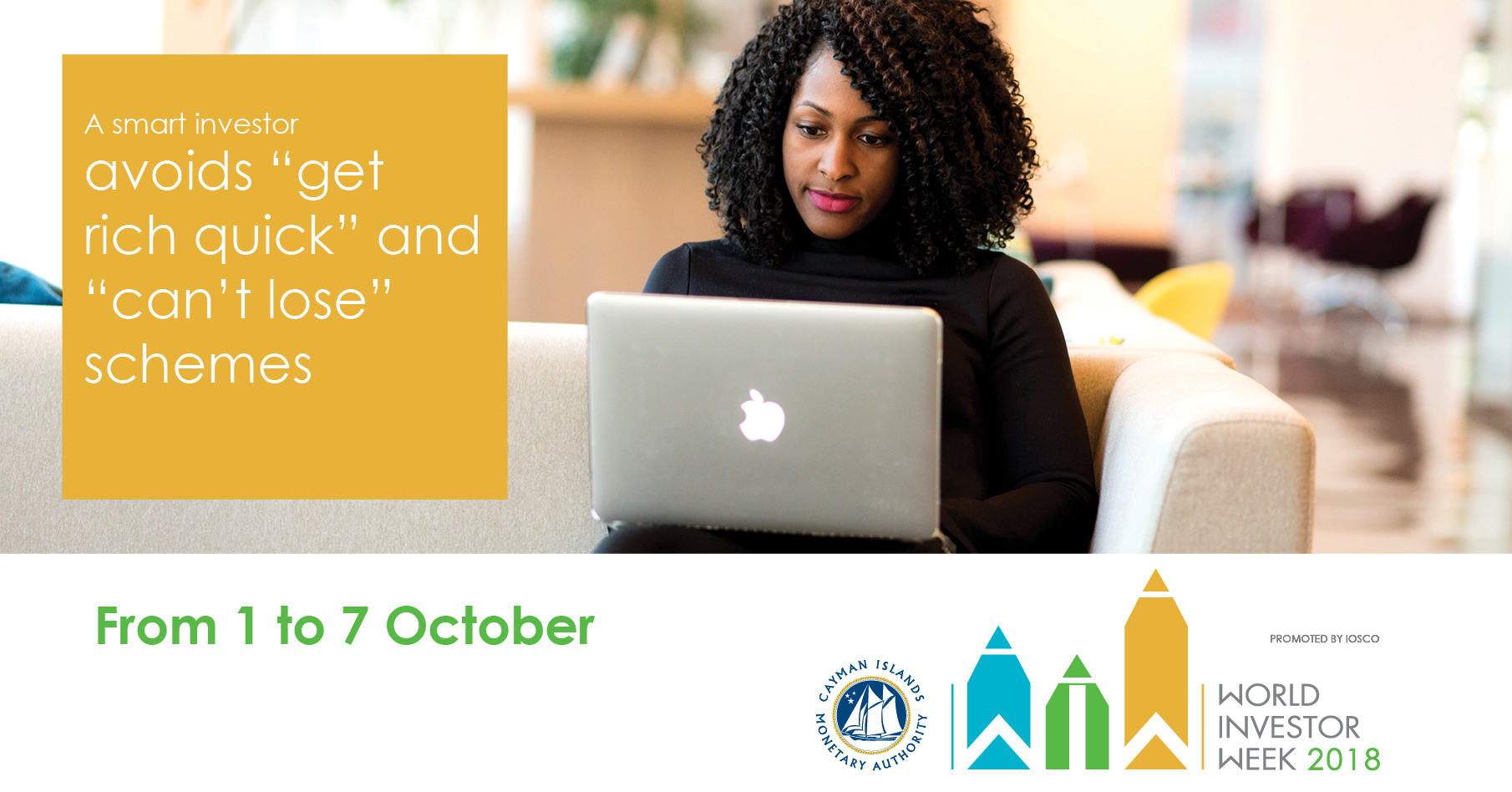 Typically investments such as stocks, bonds, and mutual funds are sold through established channels such as investment firms, banks, and other financial institutions and are sold by qualified investment professionals.
At some point however, you may be introduced to a "guaranteed" investment. Be careful, investment fraud can lead to you losing some or all of your money. Speak to your investment advisor, an industry professional, or seek legal advice before making an unsolicited investment, as these individuals will have experience and knowledge of the various types of investments and may also be aware of which types tend to be scams.
Some common features of investment scams include:
Unsolicited contact - You may be contacted via social media, email, phone, or other means to invest in a "brand new opportunity". The fraudsters will sound knowledgeable and convincing and promise high returns often within a short period of time.
High-pressure sales tactics – You are told to "buy now", or that the investment is "a limited time offer". You may even be offered free money for investing. These tactics are to get you to make a hasty decision.
The investment is the "next big thing" – You are told the investment is in a product that offers high returns with little or no risks; you are pressured to sign contracts or purchase software, instructed to wire money to a foreign country, or to bring in family and friends as investors.
Remember -
Make informed decisions about investments that are right for you;
Any claims that an investment is guaranteed by the Cayman Islands Monetary Authority is false; and
Investment scams can be hard to spot. Do your own research and ask questions.
The Cayman Islands Monetary Authority regularly issues notices and alerts for industry and the general public which can be viewed here along with public advisories on virtual currencies which can be viewed here.
TIP #5 - A SMART INVESTOR
PLANS FOR AND INVESTS ACCORDING TO HIS/HER FUTURE NEEDS AND GOALS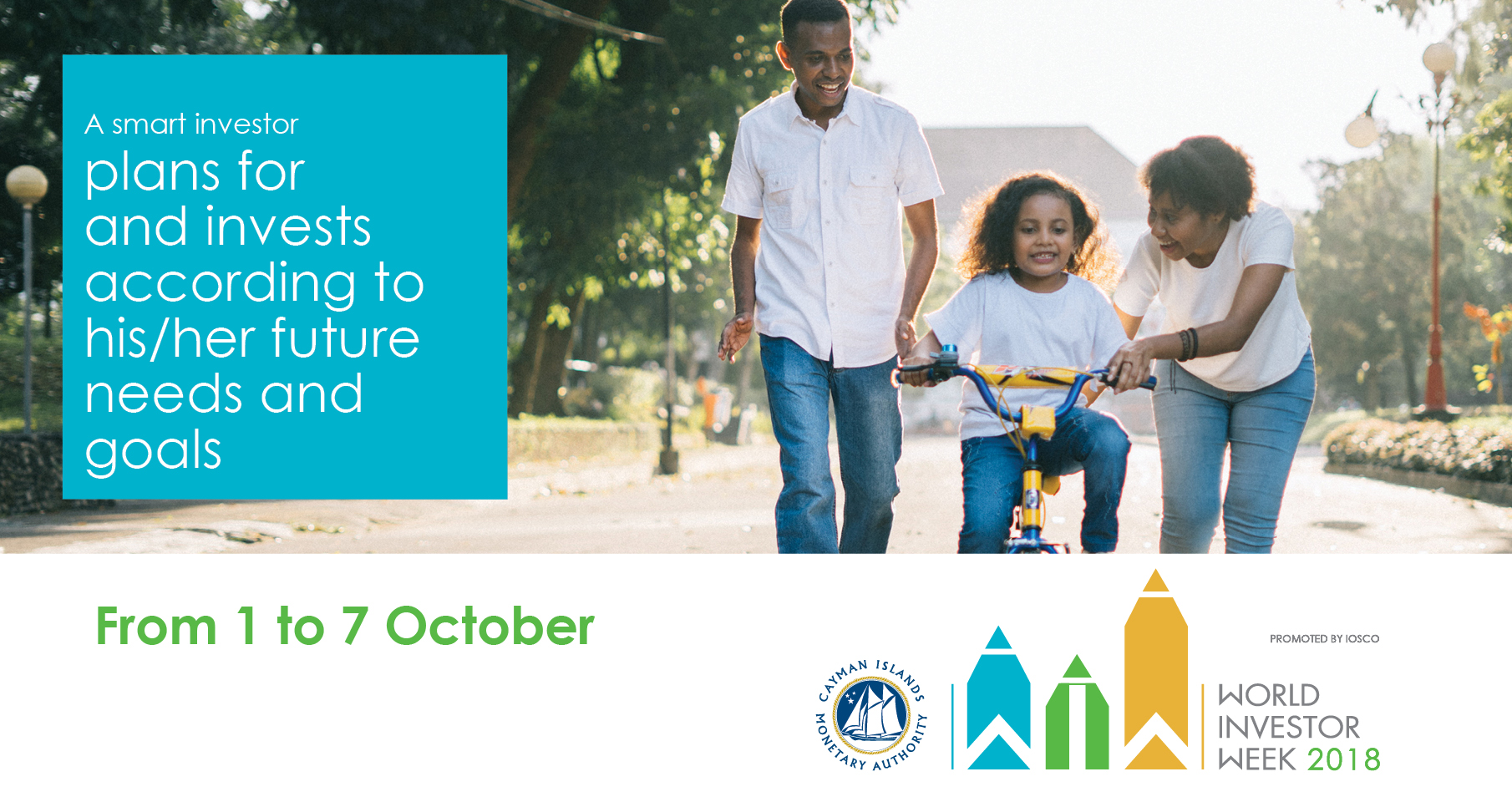 Investing based on your future goals and financial needs is an important consideration for any investor. Being financially prepared for life events such as paying for an education, buying/building a house, caring for an elderly parent, having children, losing your job, approaching retirement, etc. can assist in reducing the stress of such events.
A smart investor does not invest only for the short term. He/she must understand that investing is part of his/her financial planning for the future. With the power of compound interest (i.e. reinvesting any interest earned) to increase your earnings, and a good understanding of the benefits of a diversified portfolio (i.e. spreading your investment risk across different types of investment products), this increases your chances of being prepared for any planned and unplanned events.
Remember -
Investing should be part of your financial planning activities;

Being financially prepared for life events is half the battle; and

The power of compound interest as well as a diversified portfolio can help you meet your financial goals.
Voices of the Caribbean Video: Investor tips from the region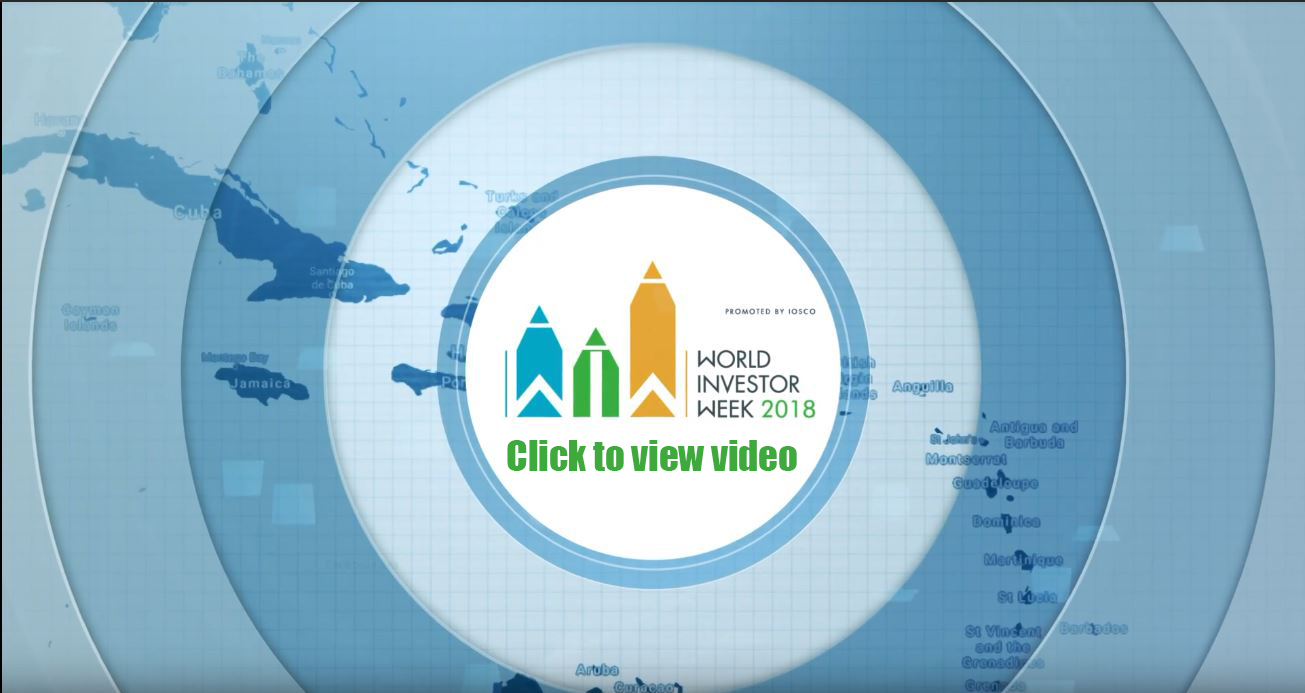 The Cayman Islands Monetary Authority is a member of the International Forum for Investor Education ("IFIE") and joins over 16 Caribbean jurisdictions in a regional video for World Investor Week 2018. The "Voices of the Caribbean: Empowering the Caribbean toward Financial Independence and Resilience" video presents investor tips and information on financial resiliency. To view the video go to www.worldinvestorweek.org
---
To learn more about the investments and securities sector in the Cayman Islands, please visit the Investment Funds and Securities FAQ pages. For an overview of trends in the investments and securities sector, see the latest Investments Statistical Digest.
Click here for a summary of "Smart Investor" tips