World Investor Week is a global campaign promoted by the International Organization of Securities Commissions (IOSCO) to raise awareness about the importance of investor education and protection and highlight the various initiatives of securities regulators in these two areas.
For CIMA, this year's campaign will take place from 23 - 27 November and is designed to promote financial resilience and help investors make sound decisions. Each day, new tips will be posted below encouraging investors and consumers to make "smart" choices.
---
SMART INVESTOR TIPS
TIP #1 - A SMART INVESTOR VERIFIES THAT AN INVESTMENT PROFESSIONAL IS LICENSED BY A REGULATORY BODY.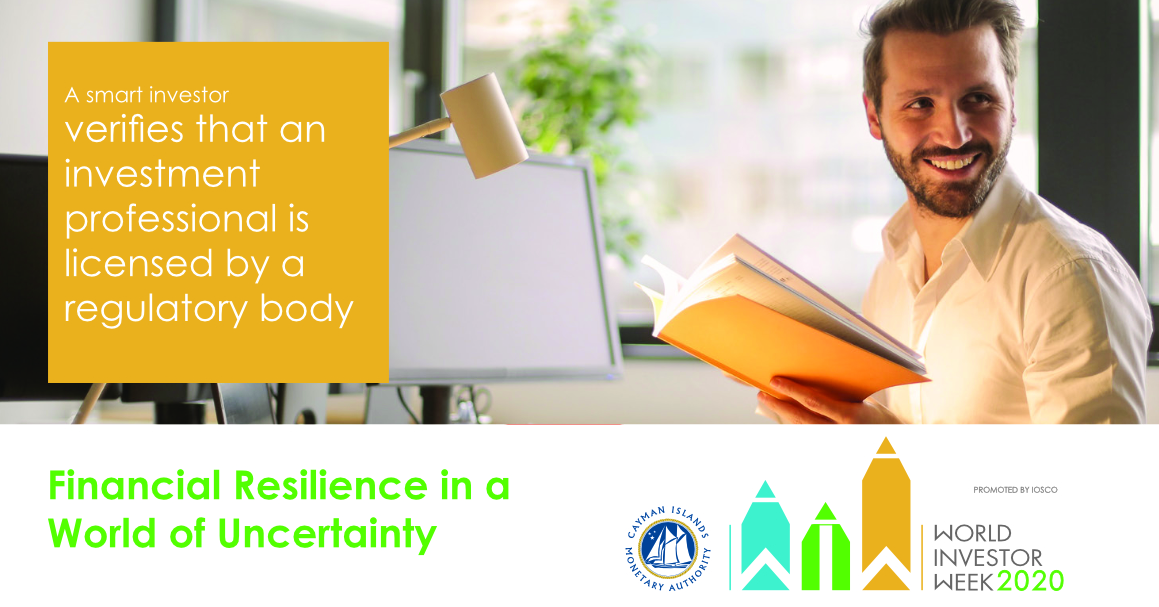 One of the first steps in choosing an investment is to check whether an entity is registered or licensed by the Cayman Islands Monetary Authority (CIMA). If an entity is registered or licensed by CIMA, that means it has met its basic regulatory obligations. To verify if an entity is registered or licensed by CIMA, see Investment Funds statistics or Securities statistics.
CIMA also maintains a list of mutual funds that have been removed from the register. The list of these terminated entities is only up until the date shown and can be viewed here .
Please note that an entitiy being registered or licensed should not be taken as an endorsement by CIMA that you will not lose your investment.
Remember -
Before investing, do your research on the investment professional and the investment product.
Read all documents on the product thoroughly and ask questions.

.
TIP #2 - A SMART INVESTOR ASSESSES THE IMPACT OF FEES WHEN CHOOSING AN INVESTMENT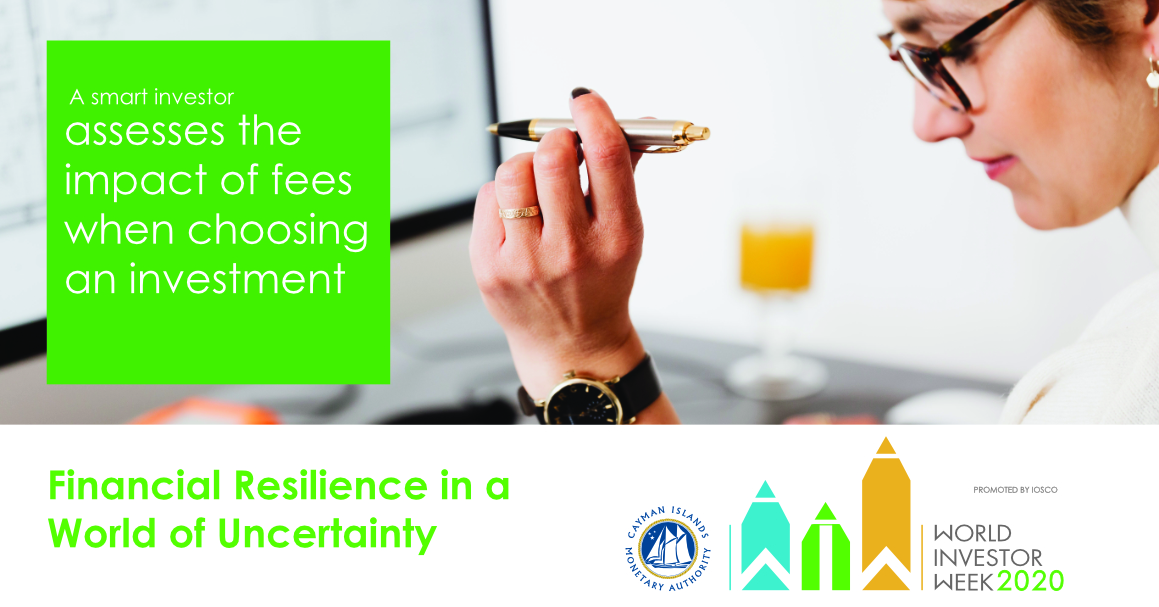 Investments come with costs such as fees, penalties, and commissions. These charges should be taken into consideration before you decide whether an investment is right for you.
Excessive costs can affect investment returns, therefore you should know costs upfront in order to set expectations.
Common types of fees include:
Receiving investment advice
Buying and selling an investment
Making changes to an investment
Managing the investment
Remember -
All fees are to be taken into consideration so that you can make an informed decision on what to invest in and how much.
Keep track of the overall cost of your investments as this will impact the return on your money.
Never assume your account statement contain all the fees that are attached to the investment. Ask questions.
TIP #3 - A SMART INVESTOR UNDERSTANDS THAT RISK EXISTS IN ALL INVESTMENTS

Investing requires balancing rewards and risk. Whether you are investing hundreds or thousands of dollars, a smart investor understands that to gain potential rewards to investing, he or she must be prepared for potential risks. You are responsible for deciding how much risk you want to take and therefore for mitigating against such investment risk.
You can manage investment risk by diversifying your investment portfolio. Instead of putting all your money in one type of investment, spread your money across different types of investments. Diversification is not a guarantee that you will not lose money on your investment, but it does enable you to reduce your risk of losses while possibly increasing your return potential across a portfolio of investments.
Remember -
There is no such thing as a risk-free investment
As a general rule, if you take limited risk, you will see limited returns, as there must be a balance between rewards and risk
Having a diversified investment portfolio helps reduce the risk of losing all of your money
Keep informed about your investments and ask questions
TIP #4 - A SMART INVESTOR IS WARY OF 'QUICK-AND-EASY' MONEY-MAKING VENTURES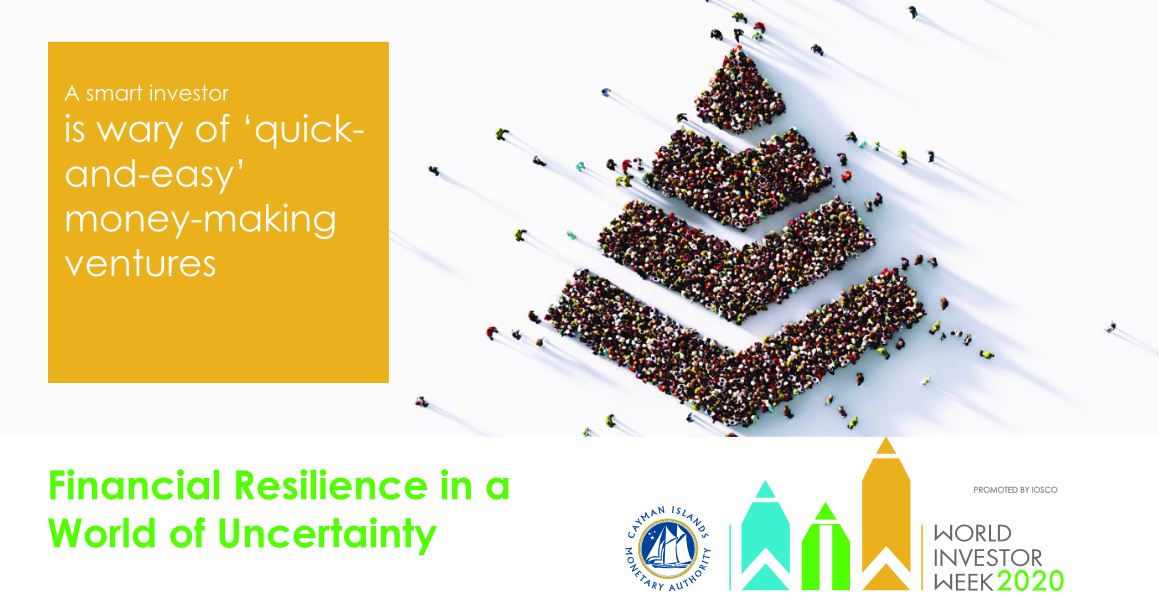 At some point you may be introduced to a "guaranteed" investment. Be careful, investment fraud can lead to you losing some or all of your money. Speak to your investment advisor, an industry professional, or seek legal advice before making an unsolicited investment, as these individuals will have experience and knowledge of the various types of investments and may also be aware of which types tend to be scams.
See our recent advisory for examples of 'quick-and-easy' money-making ventures that persons should be wary of, including a list of common red flags of illegal cash investment opportunities and possible questions to ask persons if or when approached.
TIP #5 - A SMART INVESTOR ADJUSTS THEIR LIFESTYLE TO ENCOURAGE HEALTHY SAVING HABITS FOR THE FUTURE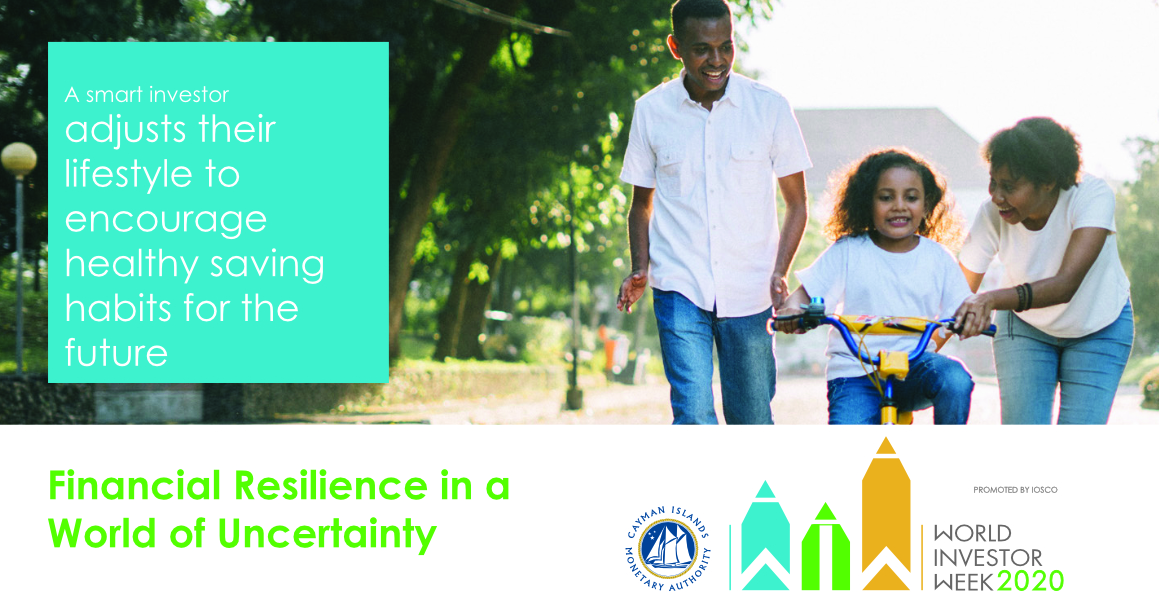 Investing based on your future goals and financial needs is an important consideration for any investor. Being financially prepared for life events such as paying for an education, buying or building a house, caring for an elderly parent, having children, losing your job, approaching retirement, etc. can assist in reducing the stress of such events.
A smart investor does not invest only for the short term. He or she must understand that investing is part of their financial planning for the future. Having a good understanding about the power of compound interest (i.e. reinvesting any interest earned) to increase your earnings, and the benefits of a diversified investment portfolio (i.e. spreading your investment risk across different types of investment products), increases your chances of being prepared for any planned and unplanned events in the future.
Remember -
Investing should be part of your financial planning activities
Being financially prepared for life events is half the battle
Understanding the power of compound interest as well as the benefits of a diversified portfolio can help you meet your financial goals
TIP #6 - A SMART INVESTOR NEVER INVESTS BASED SOLELY ON SUCCESS STORIES OR CELEBRITY ENDORSEMENT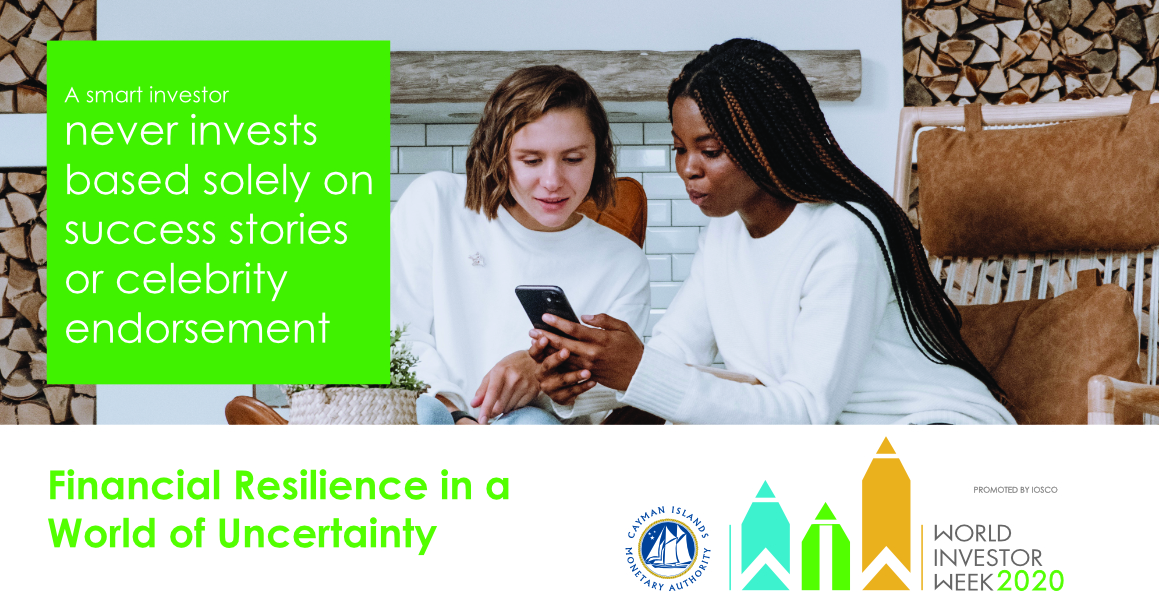 Not everything that shines is gold. When it comes to investing, having a positive mindset is essential but thinking that all investments will be a success will probably leave you in bankruptcy.
Remember to always do your research and do not solely rely on feel-good stories or celebrity endorsement when choosing an investment.
To avoid financial mistakes, here are more 'DON'Ts' to consider:
DON'T invest without a plan
DON'T double down at all costs
DON'T invest everything you have into a depreciating asset
DON'T invest in shady financial products
DON'T be a follower – "I will tell you how to become rich. Close the doors. Be fearful when others are greedy. Be greedy when others are fearful."- Warren Buffett
TIP #7 - A SMART INVESTOR PLANS FOR LIFE'S UNEXPECTED CHALLENGES IN UNCERTAIN TIMES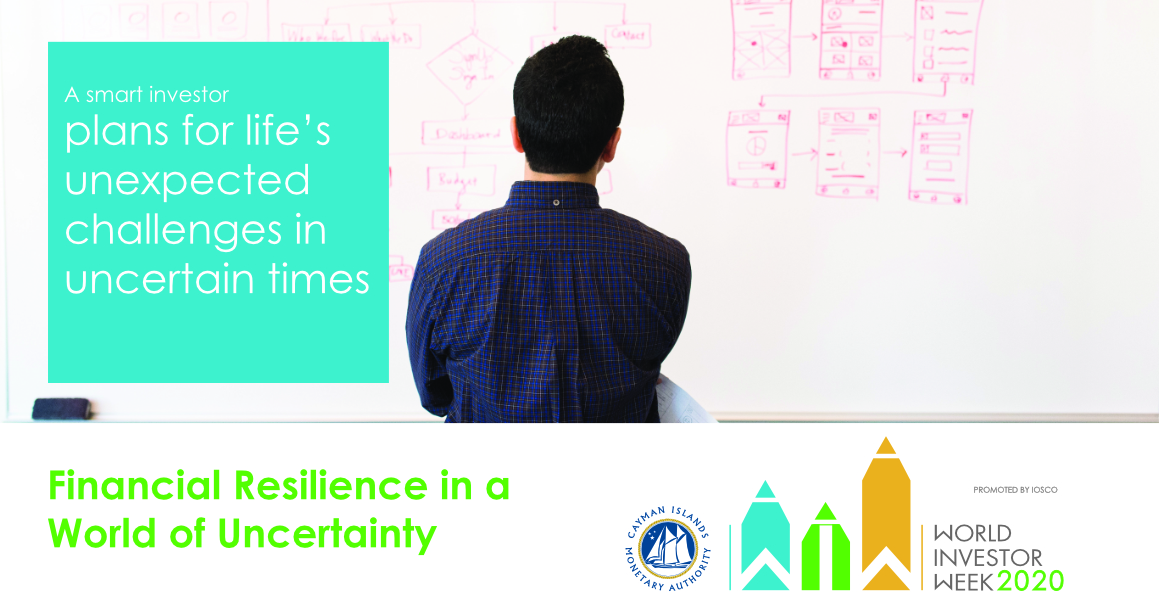 If we start with actual days, no one was expecting 2020 to be as challenging as it has been. A pandemic that stopped the entire world, was an entirely new learning experience for many of us. While lessons may vary, one thing remains true - it reminded us to always be prepared for life's unexpected challenges. Here is how you can avoid financial hardship during uncertain times:
Start with an emergency fund
Obtain life Insurance
Get adequate insurance coverage in other areas
Plan for natural disasters
Create a backup budget
There is no way to predict when you will face a crisis in life, but you can arm yourself with the right tools to better protect you and your loved ones.
TIP #8 - A SMART INVESTOR RECOGNISES THE COMMON RED FLAGS OF POTENTIAL INVESTMENT FRAUD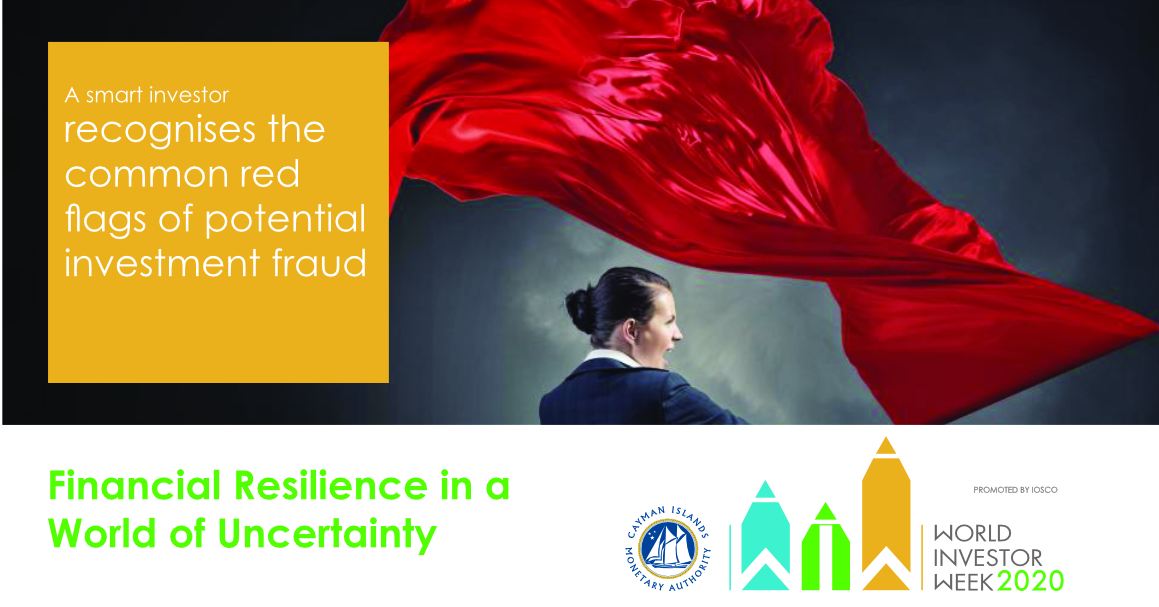 You cannot judge a book by his cover, and fraud can be deceiving. That is why it is very important to spot the warning signs of illegal investment opportunities, some of which may include but not limited to:
Unlicensed investment professionals promoting investment opportunities
Aggressive sellers who may provide exaggerated or false credentials
Offers that sound "too good to be true"
Investments that require payment via credit card, gift card or wiring money abroad or to a personal account
Investment venture promising high rates of return in a very short period of time
Programmes involving lack of transparency
Use of manipulative sales practices such as the intimidation or non-traditional payment choices
Falsified information on your account application
Promoters preying on your membership in a certain group
Diligence is your antidote to the manipulative and deceitful sales practices used to commit investment fraud. Trust your instinct. Intuition does not lie. For more helpful tips, see our recent advisory.
TIP #9 - A SMART INVESTOR REPORTS ANY SUSPICIOUS OR FRADULENT ACTIVITY TO THE FINANCIAL CRIME UNIT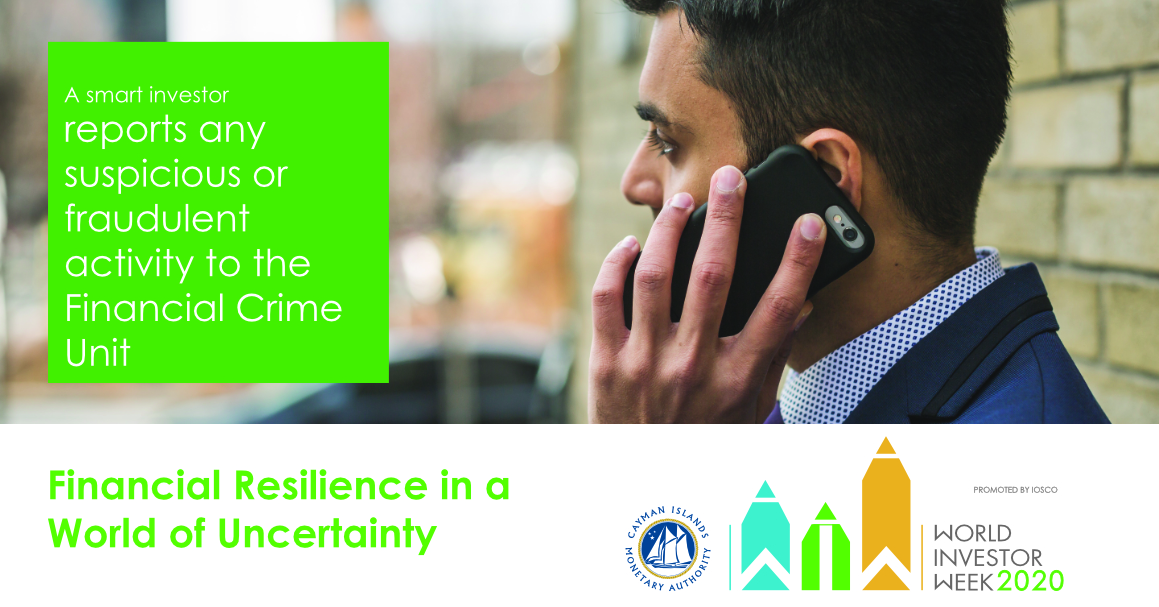 Suspicious of fraud? Any suspicious or fraudulent activity should be reported immediately to the Financial Crime Investigation Unit. This specialized unit is dedicated to investigating criminal offences related to money laundering, the financing of terrorism and fraud. Suspicious activity for financial crimes can be both hard and easy to spot.
Consider these examples of potential signs:
Suspicious shops, websites, social media accounts, and email addresses claiming to sell medical supplies currently in high demand, such as surgical masks (i.e Interpol case)

A business that doesn't seem to have many customers somehow manages to stay open
Your business 'investor' uses multiple birthdates or various names
A stranger offers to pay you $100, if you cash a $1,000 cheque for them
You get an offer from someone living overseas to buy the vehicle you have for sale on behalf of an unnamed person

Phishing schemes that prey on virus-related fears
Anyone who believes they may be a target or victim of a financial scam is encouraged to contact the Royal Cayman Islands Police Service's Financial Crimes Unit on RCIPS.FCU@rcips.ky or +1 345 949-8797.
TIP #10 - A SMART INVESTOR DOES NOT ENTER INTO AN INVESTMENT AGREEMENT THAT THEY DO NOT FULLY UNDERSTAND


Looking for the right investment can be challenging and you may want to quickly jump into an investment once you think you've found the right one. However, if you are considering an investment, it is vital that you fully understand the investment agreement before agreeing to invest. An investment agreement states the rights and responsibilities of the parties in an investment, as well as sets forth the parameters of the investment. If you do not fully understand the terms and conditions of the agreement, you may enter an agreement that is not mutually beneficial or you may be defrauded.
When reviewing an investment agreement, consider recommendations from experienced investors instead of "hot tips" from untrustworthy sources. If needed, do extensive research to understand the terms of the investment agreement to avoid losing money on an investment.