200th Anniversary of the Wreck of the Ten Sails (Silver)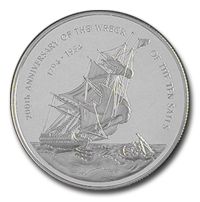 A limited number of $2 silver Proof coins were issued in 1994 to commemorate the 200th Anniversary of "The Wreck of the Ten Sails", a favourite Cayman legend that is based on a tragedy involving ten British ships.
The coral reefs surrounding the rugged coastlines of the Cayman Islands have often, in times past, brought grief to ships voyaging in the Western Caribbean. Towards the end of the eighteenth century, during the French Revolutionary Wars, hostilities between Britain and France extended to the West Indian seas with each country endeavouring to capture the other's naval ships and merchantmen as prizes. In February 1794, His Majesty's ship the Convert, a 12-pounder frigate seized from the French in the previous year, was charged with escorting and protecting a produce-laden convoy of merchant vessels to Britain from Jamaica. Ironically the greatest danger was to come not from the French but from the perilous eastern reefs of Grand Cayman where on 8th February 1794 a disastrous chain of events resulted in the loss of the Convert and nine sails of her merchant convoy. The settlers of Grand Cayman displayed considerable heroism in assisting in the rescue of more than 400 survivors and thanks to their bravery, few lives were lost.
The reverse design of this splendid silver coin, modelled by artist John Savage, dramatically pictures a Royal Navy frigate coming to grief on the breakers of the reef while, in the foreground, the crew of a small craft plucks survivors from the waves. The inscription "200th Anniversary of the Wreck of the Ten Sails" surrounds the design together with the dates "1794 - 1994". The obverse bears the uncouped portrait of Her Majesty the Queen by Raphael Maklouf with the inscription CAYMAN ISLANDS and ELIZABETH II.
Specifications
| Issue | Alloy(Stg) | Weight(gms) | Diameter(mm) | Issue Limit | Price CI$ | Price US$ |
| --- | --- | --- | --- | --- | --- | --- |
| Cayman Islands $2 Silver Proof | Sterling (.925) Silver | 28.28 | 38.61 | 15,000 | 30.00 | 36.81 |