Banking Services Statistics Overview
The Banking Division was responsible for the supervision of 147 banks as at the end of March 2018 (December 2017: 148 and March 2017: 156). These are comprised of 6 retail and 5 non-retail Category 'A' banks, and 136 Category 'B' banks, portraying a sound and resilient banking sector in a challenging global financial environment. The majority of these banks are branches (93) and subsidiaries (39) of international banks from North America, Europe, and South America, as shown below.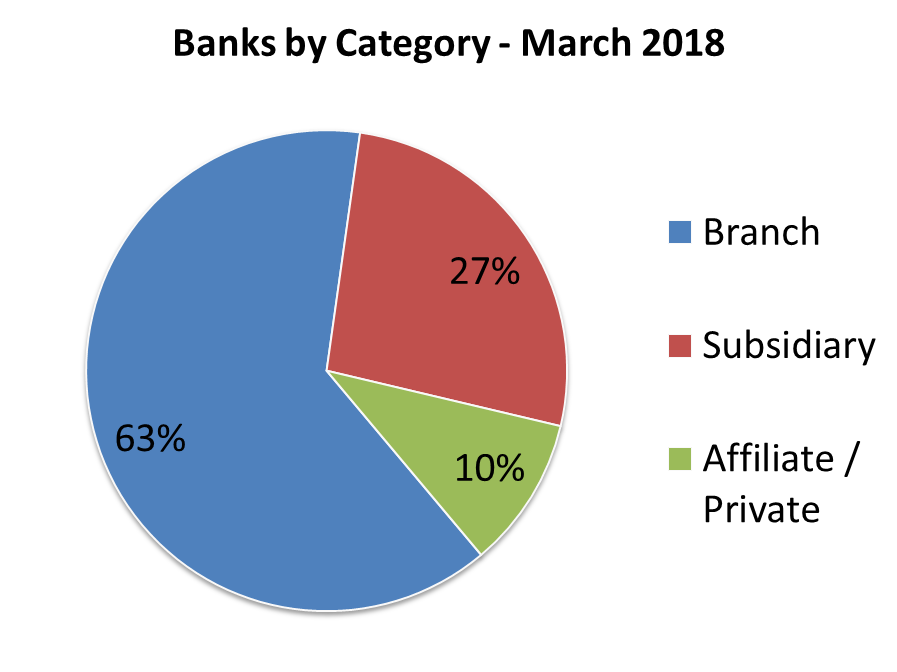 As at June 2017, total international assets and liabilities (cross-border positions in all currency and domestic positions in foreign currency) were reported as US$1.026 trillion and US$1.027 trillion, respectively (June 2016: US$1.15 trillion and US$1.20 trillion, respectively). The jurisdiction is now ranked eight internationally based on the value of cross-border assets - US$1.01 trillion (June 2016: US$1.13) - and seventh in terms of cross-border liabilities - US$0.97trillion (June 2016: US$1.15), highlighting the role of the Cayman Islands as a financial intermediary.
Cross-Border Assets and Liabilities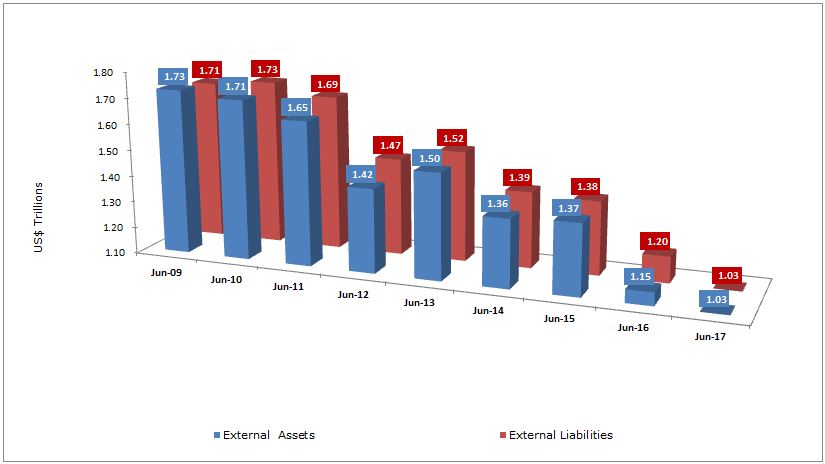 Of the international assets and liabilities booked by the 176 banks as at June 2016, $23 and $57 million of assets and liabilities, respectively, were booked in the domestic economy with other legally domiciled licensed entities considered as resident entities.
Domestic Assets and Liabilities in Foreign Currency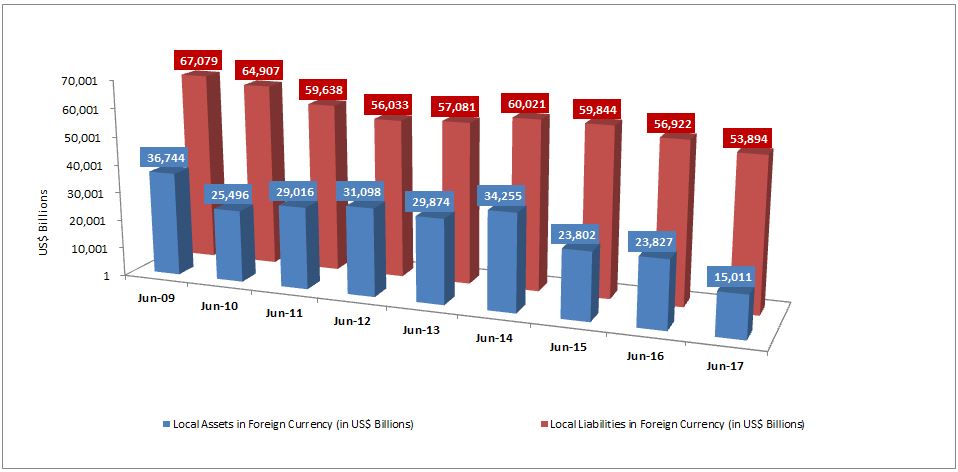 A reputation of sensible regulation comparable to other international financial centres coupled with a competent workforce of lawyers, bankers, and accountants, provides the base on which Cayman continues to build its clientele. Licensees represent some 45 countries from across the globe.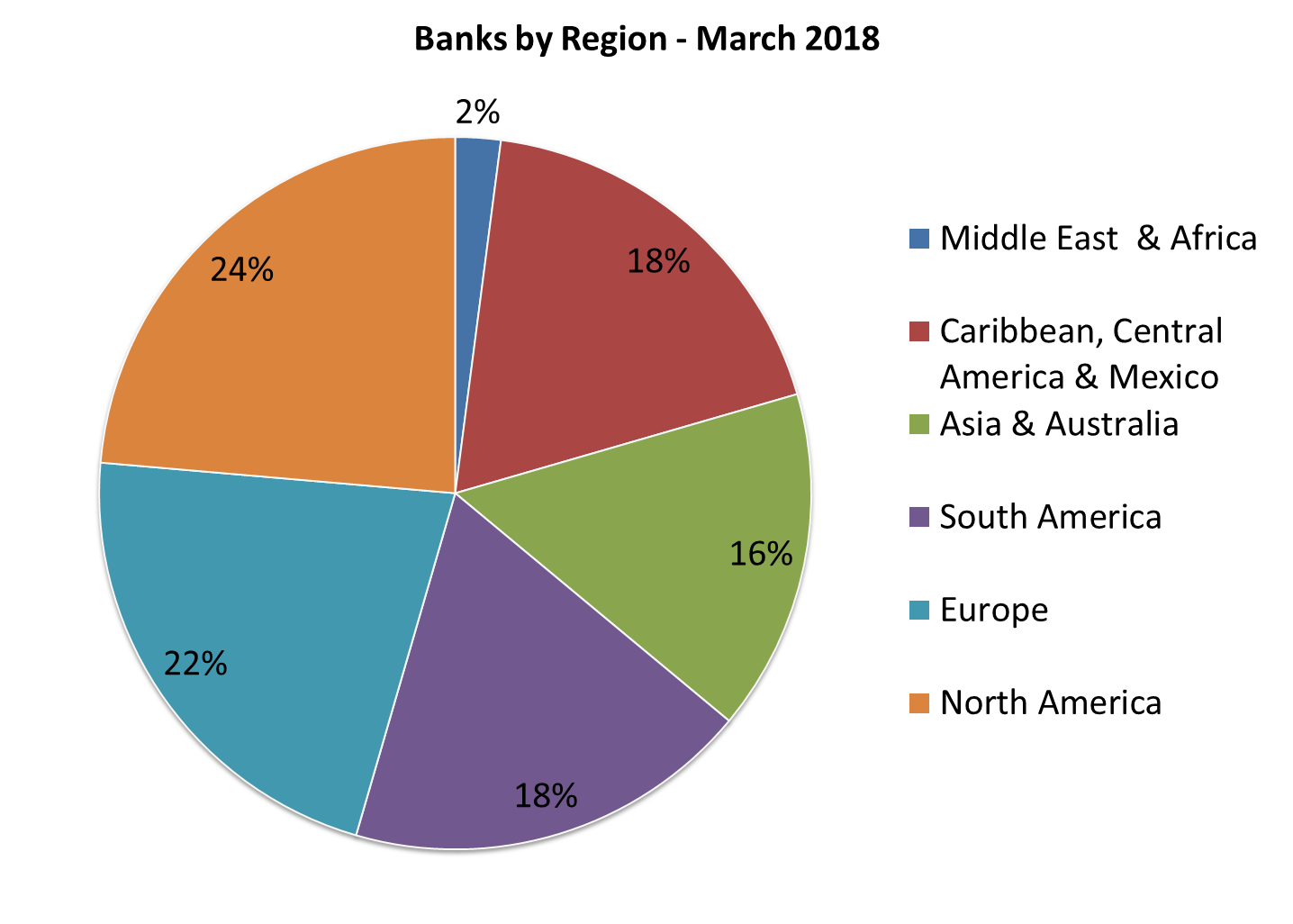 The Cayman Islands is recognised as one of the top 10 international financial centres in the world, with over 40 of the top 50 banks holding licences here. This is a testament to the worldwide recognition of the quality of Cayman's financial Industry. Over 80 percent of more than US$1 trillion on deposit and booked through the Cayman Islands, represents inter-bank bookings between onshore banks and their Cayman Islands branches or subsidiaries. These institutions present a very low risk profile for money laundering.
Detailed Statistics (updated quarterly)
Number of Licensees & Other Entities Supervised by the Banking Division Q1 2018View
Number of Banks by Category Q1 2018View
Number of Banks by Region Q1 2018View
List of Regulated Entities (updated quarterly)
List of Category A Banks Q1 2018View
List of Category B Banks Q1 2018View
List of Nominee Companies Supervised by the Banking Division Q1 2018View
List of Other Entities Q1 2018View