Insurance Statistics Overview
There were a total of 826 insurance licensees under the supervision of the Insurance Supervision Division (the "Division") as at 31 December 2017, of which 104 and 722 related to domestic and international insurance markets respectively. There were 28 insurers licensed to offer their products in the domestic market, supported by 76 insurance intermediaries. There were a total of 696 Class "B", "C" and "D" insurance companies and 26 Insurance Managers under the supervision of the Division as at 31 December 2017. Pure captives and group captives represented the two main categories, with 317 and 121 companies respectively. Twenty-one percent (21%) of the total Class "B", "C", and "D" insurance companies were formed as segregated portfolio companies, with over 600 segregated portfolios.
The calendar year of 2017 was another exceptional year with 33 new insurer licences issued as of 31 December compared to 39 and 22 licences were issued in 2016 and 2015 respectively. Furthermore, three (3) new portfolio insurance companies ("PIC") were registered in 2017. New licences included twenty-seven (27) new Class 'B' insurers and five (5) Class 'C' insurers. During the quarter ended 31 December 2017, 9 new insurer licences and a portfolio insurance company were added to the Cayman Islands' insurance sector. As of 31 December 2017 total premiums were reported at US$12.4 billion and total assets were reported at US$61.0 billion.

The Cayman Islands is the leading jurisdiction for healthcare captives representing almost half of all the captives. As at 31 December 2017, Medical Malpractice Liability ("MedMal") continues to be the largest primary line of business with approximately 32% companies (re)insuring MedMal, and Worker's Compensation the second largest with 21% companies assuming this risk. The Cayman Islands international insurance industry is comprised mainly of companies insuring risks in North America (90%).
The graph below details the number of Class "B", "C" and "D" Licensees by year and as of 31 December 2017.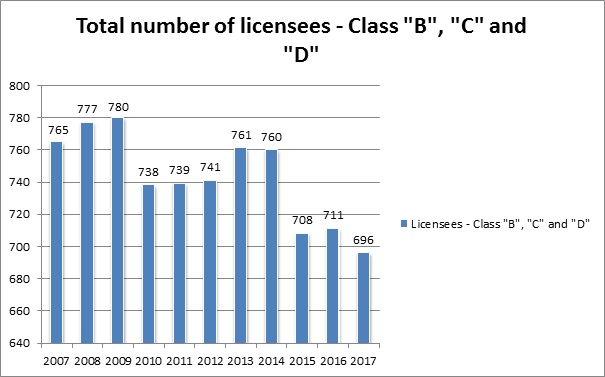 List of Entities (updated quarterly)
Full List of all Insurance Entities Registered with the Cayman Islands Q4 2017View
General Statistics (updated annually and quarterly)
Number of Insurance Licensees Q4 2017View
Domestic Market Statistics
Domestic Insurance Companies Lines of Business TrendsView
Domestic Insurance Companies - Audited Statistics By Primary Class of BusinessView
Domestic Insurance Companies - Unaudited Statistics By Primary Class of Business - Q3 2017View
Domestic Insurance Companies - Contact DetailsView
Insurance Brokers Contact ListView
Captive Market Statistics
Captive Insurance Managers ListingView
New Captive Insurance Licences Issued During Quarter 4 2017View
Captive Insurance Company by Primary Class of Business Q4 2017View
Captive Insurance Company by Category Q4 2017View
Captive Insurance Company by Risk Location Q4 2017View
Captive Insurance Company Statistics by Licence Status Q4 2017View
Captive Insurance Company Statistics by Insurance Manager Q4 2017View
Captive Insurance Company Statistics - Licensing Activity 2017View