25th Anniversary of the Cayman Islands Currency Board (Silver)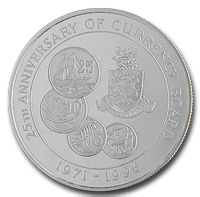 To commemorate the twenty-fifth anniversary of the establishment of the Cayman Islands Currency Board, a limited number of silver Proof $2 coins were issued.
In 1969 the Government of the Cayman Islands established the Currency Board which, with the assistance of the Bank of England and Crown Agents, conducted a detailed study of all aspects of the Islands' currency, and presented its recommendations in 1971. As a result the Cayman Islands had its own currency for the first time in its history by 1 May 1972, thus replacing the Jamaican currency which had previously been in circulation on the Islands.
The special commemorative $2 silver Proof coin, modelled by Royal Mint engraver Robert Elderton, encapsulates the exquisite reverse designs of each circulating coin, namely the Cayman Thrush, the Crayfish, the Hawksbill Turtle breaking the surface of the water, and the Cayman Schooner. These striking portrayals reflect the enchanting flora and fauna in and around the beautiful islands, as well as the long seafaring history. The intricate design also incorporates the Cayman Islands National Coat of Arms and the inscription 25TH ANNIVERSARY OF CURRENCY BOARD 1971-1996.
Featured on the obverse is the elegant portrait of Her Majesty the Queen by sculptor Raphael Maklouf.
Specifications
| Issue | Alloy(Stg) | Weight(gms) | Diameter(mm) | Issue Limit | Price CI$ | Price US$ |
| --- | --- | --- | --- | --- | --- | --- |
| Cayman Islands $2 Silver Proof | Sterling (.925) silver | 28.28 | 38.61 | 2,000 | 31.00 | 38.04 |