CIMA Hosts First Legal Studies 101 Seminar for Local Students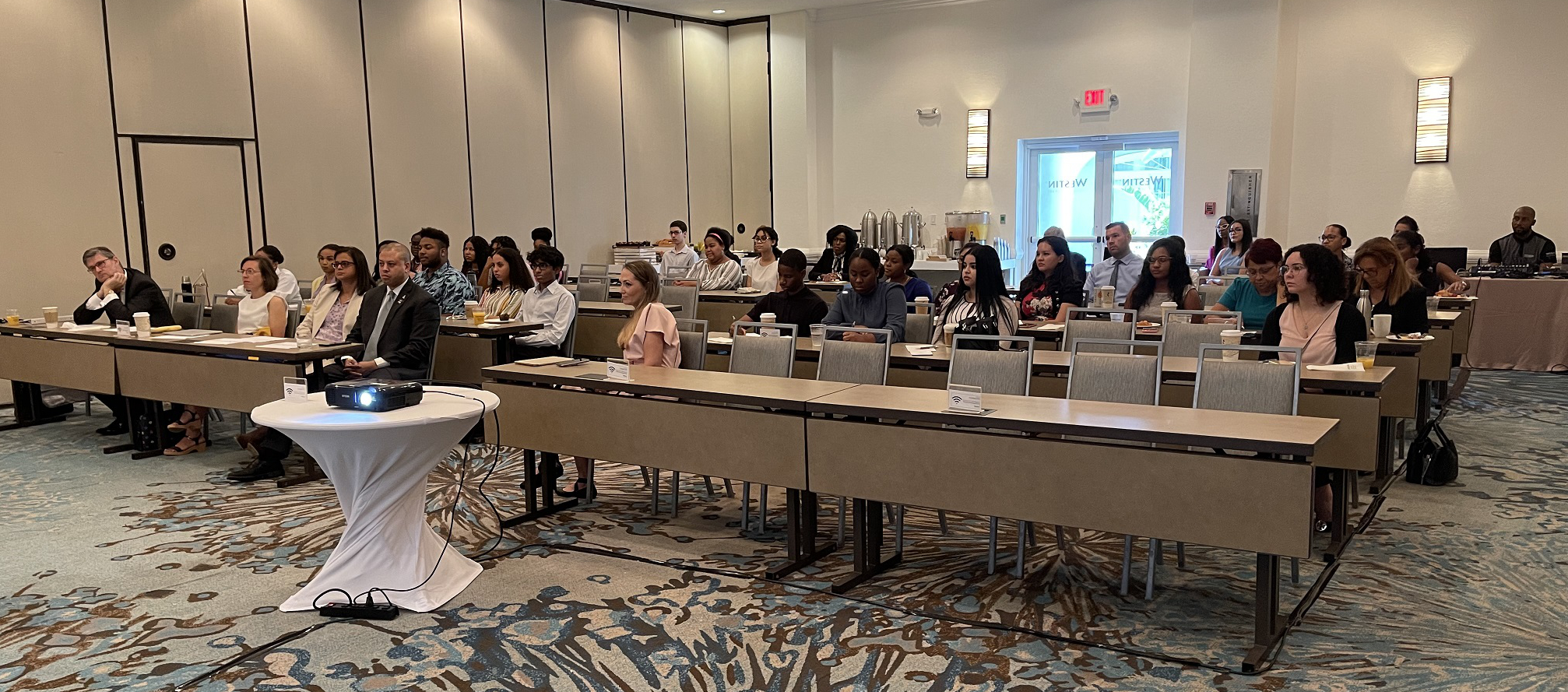 Participants engaged in insightful discussions at the Legal Studies 101 Networking Seminar held at the Westin Resort, Grand Cayman.
Grand Cayman, Cayman Islands (31 August 2021) The Cayman Islands Monetary Authority ("CIMA") held its first Legal Studies 101 Networking Seminar on 9 August 2021 at the Westin Resort Governor's Ballroom. Over 30 participants learned about common introductory topics in legal studies, practical examples of how they are applied in today's business, as well as the important role that legal professionals play within the financial services field. Presentation topics included: Criminal Law, Real Estate Law, Contract Law, Trusts and Equity Law, European Union Law, Tort Law, Ethics Law, and Public Law.
During the lunch and networking hour, students were given the opportunity to meet key players within the industry, some of whom included legal professionals from CIMA, the Cayman Islands Government and the private sector. The interactive event also allowed participants to obtain a greater understanding about the legal field while considering potential career opportunities.
Delivering the opening remarks, Minister of Financial Services Honourable Andre Ebanks encouraged participants to not only become successful lawyers, but to serve as guardians of justice, who help to ensure that the legal system is fair and just. Having a legal background, he also shared some of his personal experiences and commended the students for pursuing such a noble profession.
CIMA Managing Director Mrs. Cindy Scotland said, "The primary aim of the seminar was to offer current and aspiring law students an informative platform to learn about the fundamentals of legal studies, specific to the Cayman Islands, and what to expect during their careers. Based on feedback received, I am extremely pleased that we were able to do just that."
Mrs. Scotland also extended a heartfelt thanks to speakers for helping to make the event a successful one. They were: Jacob Taylor (Office of the Director of Public Prosecutions), Stuart Rowe (McGrath Tonner), Nicholas Fox and Janaki Tampi (Mourant), Anthony Partridge (Ogier), Laura Panades (Truman Bodden Law School), Graham Hampson (Hampson & Co), Marilyn Brandt (Attorney General's Chambers), and Jodie Woodward (CIMA).