CIMA Launches 25th Anniversary Commemorative Coin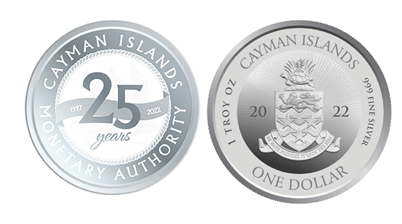 Grand Cayman, Cayman Islands (9 August 2022) The Cayman Islands Monetary Authority ("CIMA" or "the Authority") is delighted to launch a new commemorative coin in celebration of its 25th anniversary.
The design includes CIMA's 25th anniversary logo on the reverse side and the Cayman Islands Coat of Arms on the obverse.
CIMA Managing Director, Mrs. Cindy Scotland, OBE said, "I am grateful for the opportunity to expand on our numismatic programme with the addition of this 1 ounce .999 fine silver 25th Anniversary coin, which signifies CIMA's crucial role in the economic success and stability of Cayman's financial services industry, including the work of its staff."
She added, "Looking back, I am extremely proud of what the Authority has accomplished over the last two and a half decades and look forward to further fulfilling our vision of a thriving, innovative and well-regulated financial services system in the Cayman Islands for many more years to come."
The coin is now available for purchase at our Currency office located on the first floor of the Cayman Islands Government Administration Building for KYD$40.75 or US$50.00 per coin.
For more information, please contact CIMA's Currency Division at (345) 244-1596, or via email at contactcurrency@cima.ky.