CIMA Unveils Queen Elizabeth II $70 Commemorative Banknote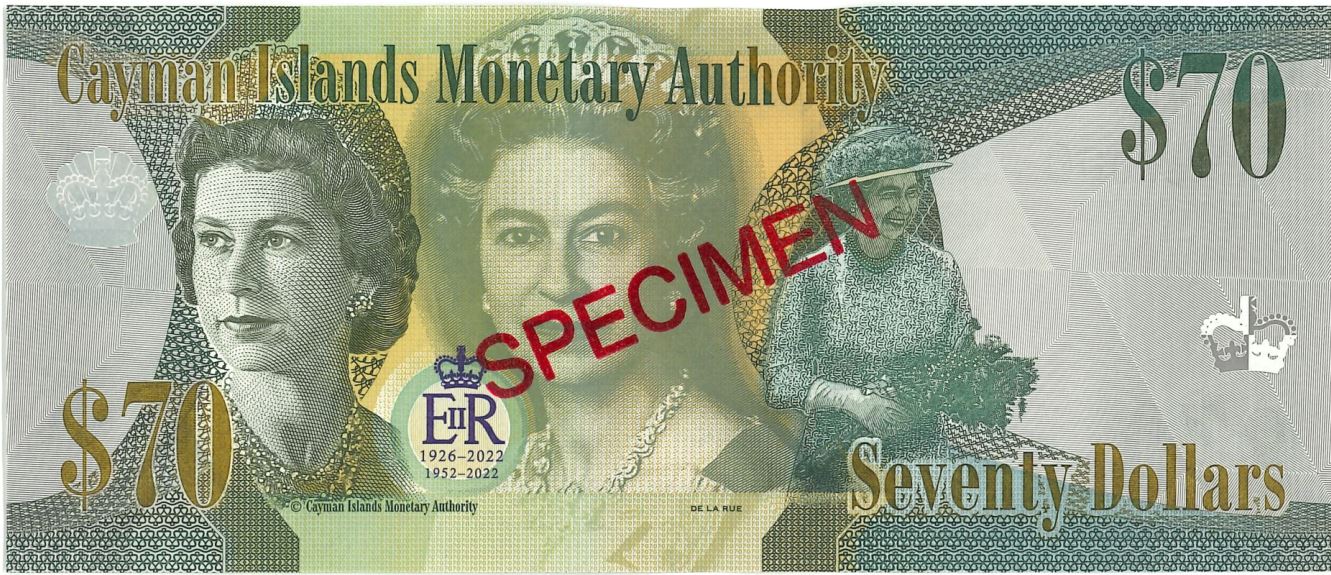 In collaboration with De La Rue, the Cayman Islands Monetary Authority ("CIMA") is pleased to announce the unveiling of our commemorative $70 banknote to honour the one-year anniversary of the passing of Her Majesty Queen Elizabeth II and in recognition of her remarkable Platinum Jubilee.
Inspired by Queen Elizabeth II's extraordinary 70-year reign, the banknote showcases three distinct portraits of Her Majesty, including a poignant depiction of her historic visit to the Cayman Islands in 1983. The obverse side elegantly displays the Cayman Islands Coat of Arms and the Royal Cipher of Queen Elizabeth II, symbolising her reign from 1952 to 2022.
Her Excellency the Governor Mrs. Jane Owen, OBE, remarked, "This banknote in memory of Her Late Majesty from the Cayman Islands Monetary Authority is a wonderful tribute to her 70 years of dedication to duty. The use of images from her visit in 1983 will remind many of her warmth and passion for the Cayman Islands and her people."
De La Rue has been providing services to CIMA since the introduction of the Cayman Islands currency in 1972, producing a wide range of banknotes to mark historical occasions.
The $70 banknote, limited to a production of only 10,000 units, will remain exclusive and will not enter general circulation.
To ensure widespread access, interested persons are limited to purchasing a maximum of 10 banknotes. Each banknote features a unique serial number and bears the special designation of "Q/1" to signify its status as a commemorative edition.
"As we unveil this extraordinary commemorative banknote, we are reminded of the profound significance of Her Majesty Queen Elizabeth II's 70-year reign. It is not only a testament to her enduring legacy but also a reflection of the enduring partnership between CIMA and De La Rue. Together, we have the privilege of immortalising this historic moment in a tangible form that will be cherished by generations to come. This collaboration underscores our commitment to preserving and celebrating the rich history and culture of the Cayman Islands, and we are honoured to continue this journey with De La Rue," said CIMA Managing Director, Mrs. Cindy Scotland, OBE.
As the Minister responsible for the Cayman Islands currency, Premier, Honourable G. Wayne Panton said, "I am delighted that we have chosen to pay tribute to Her Majesty Queen Elizabeth II with this special commemorative banknote. Not only does it pay tribute to the Platinum Jubilee of Her Majesty Queen Elizabeth II, but it also marks the one-year anniversary of her passing, an event that profoundly touched our nation. Beyond its commemorative value, this banknote represents not only our commitment to preserving history but also our unity as a nation in celebrating this historic milestone. It serves as a symbol of our enduring connection to the British monarchy and the historical milestones we have shared. I am confident that this commemorative banknote will become a cherished memento, reminding us of this once-in-a-lifetime event and the enduring legacy of our beloved late Queen."
The banknote is now available for purchase at our Currency office, located on the first floor of the Cayman Islands Government Administration Building, for CI$70.00 or US$85.89. Collection can be made from Monday to Friday between 9:00 am and 2:00 pm.
At this time, only cash is being accepted and no banknotes are being reserved.
For more information, please contact our Currency Division at (345) 244-1596, or via email contactcurrency@cima.ky.