Flora and Fauna - Ironwood Tree (Silver)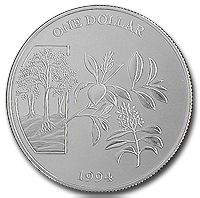 A limited number of these silver proof coins were issued in 1994 in the continuing series of coins depicting the fascinating flora and fauna distinctive to these beautiful Caribbean Islands.
The Cayman Islands are still largely unspoilt and are endowed with extremely rare species, some of which are either classified as endangered or protected under local laws. The reverse of the $1 coin, modelled by Robert Elderton, features the native Cayman Ironwood tree.
Found nowhere else in the world, the tall, straight Cayman Ironwood, notable for its extremely hard dense wood, was very much in demand for building purposes, particularly during the seventeenth, eighteenth and nineteenth centuries. Like many of the trees of Cayman's dry evergreen woodlands, the Ironwood grows on bare eroded dolomite rock, its roots deeply penetrating the surface and anchoring the tree against hurricanes so that it lives to a great age. Healthy populations of Ironwood still survive in undisturbed rocky woodlands on all three islands, including the three large nature reserves protected by the Cayman Islands National Trust.
The obverse bears the uncouped portrait of Her Majesty the Queen by Raphael Maklouf.
Specifications
| Issue | Alloy(Stg) | Weight(gms) | Diameter(mm) | Issue Limit | Price CI$ | Price US$ |
| --- | --- | --- | --- | --- | --- | --- |
| Cayman Islands $1 Silver Proof | Sterling (.925) Silver | 18.14 | 35.00 | 10,000 | 37.00 | 45.50 |