Flora and Fauna - Parrot (Silver)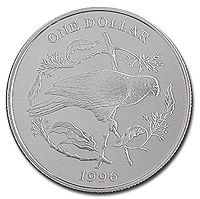 Continuing the series of coins with designs featuring some of the species indigenous to the Islands and some now threatened with extinction, the latest, for 1996, depicts the colourful Cayman Parrot, a sub-species of the Cuban Parrot (Amazona Ieucocephala) which is found in Cuba, the Cayman Islands and part of the Bahamas.
Two endemic species exists on the Islands, the more common resident (Amazona Ieucocephala Caymanensis - Cory) in Grand Cayman and the smaller, darker species (Amazona Ieucocephala Hesterna - Bangs), rarer possibly because of the devastation caused by Hurricane David in 1980, in Cayman Brac. Distinguished by their iridescent green feathers and raucous squawking, the Cayman Parrots feed in small groups but fly in pairs. They nest in tree cavities in April and May and the eggs (usually four), hatch in about 24 days with the resulting young fledged within two months. The charming parrot featured on the reverse of the silver Proof $1 has been modelled by Royal Mint Engraver, Robert Elderton.
The obverse bears the uncouped effigy of Queen Elizabeth II by Raphael Maklouf.
Specifications
| Issue | Alloy(Stg) | Weight(gms) | Diameter(mm) | Issue Limit | Price CI$ | Price US$ |
| --- | --- | --- | --- | --- | --- | --- |
| Cayman Islands $1 Silver Proof | Sterling (.925) silver | 28.28 | 38.61 | 5,000 | 40.75 | 50.00 |