Her Majesty the Queen's Golden Wedding Anniversary (Silver with 18K Gold in-lay)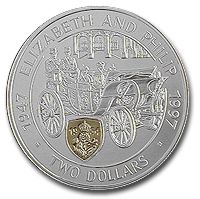 Soon after the Coronation in 1953, and continuing the fulfilment of the pledge of dedication which she made on her twenty-first birthday in 1947, Queen Elizabeth and her husband embarked on a gruelling six-month tour of the Commonwealth. They journeyed some 43,000 miles before returning to a triumphant homecoming on 15 May 1954. In an open state landau, escorted by a Sovereign's Escort of the Household Cavalry, the Queen and the Duke of Edinburgh, accompanied by their two small children were driven up Whitehall, the street lined with cheering crowds.
The Queen, with her husband by her side, has become the most travelled British monarch in history, possibly the most travelled head of state in any age, and together the royal couple have visited all member states of the Commonwealth during their fifty years of marriage.
To commemorate their Golden Wedding Anniversary, the Cayman Islands Monetary Authority has authorised the Royal Mint to strike a limited number of silver Proof $2 coins commemorating Her Majesty the Queen and Prince Philip's golden wedding anniversary. This coin which is struck to the highest standard features Her Majesty the Queen and His Royal Highness Prince Philip returning from their first Commonwealth tour in May 1954.
Featured on the obverse is Raphael Maklouf's uncouped regal portrait of Her Majesty the Queen.
Specifications
| Issue | Alloy(Stg) | Weight(gms) | Diameter(mm) | Issue Limit | Price CI$ | Price US$ |
| --- | --- | --- | --- | --- | --- | --- |
| Cayman Islands $2 Silver Proof | Sterling (.925) silver | 28.28 | 38.61 | 30,000 | 45.00 | 55.22 |