Quincentennial $2 Commemorative Coin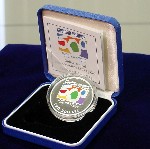 The Cayman Islands Monetary Authority has authorized the Royal Mint to strike a limited number of silver Proof coins to commemorate the 500th anniversary of Christopher Columbus first recorded sighting of the beautiful islands in 1503. This $2 silver proof coin is the first coloured coin to be issued by the Cayman Islands.
THE DESIGN
These silver coins are presented in a bright blue vinyl case. The reverse design features the Quincentennial Celebrations Logo in full colour. The obverse depicts a portrait of Her Majesty the Queen as designed by Ian Rank-Broadley FRBS, FSNAD.
THE ISSUE
These beautiful numismatic coins are available at the Cayman Islands Monetary Authority.
All coins are legal tender of the Cayman Islands and a certificate of authenticity attesting to its proof and limited mintage accompanies each coin.
SPECIFICATIONS:
Denominations Alloy Diameter Weight Issue Limit
$2 Sterling (.925) silver 38.61mm 28.28gms 1,500